Roofing Contractor in Chesapeake OH

Serving Huntington WV and the Tri-State Area
Serving the Tri-State Area
A-1 Roofing Offers Roof Installation and Roof Repair
A-1 Roofing is a trusted roofing contractor in Chesapeake OH serving Huntington WV and the tri-state area. We proudly serve the tri-state area with quality roofing services, including siding, gutters, and skylights. Our services include:
Asphalt Shingles
Chimney Repair
Drywall
Flooring
Gutters
Maintenance
Metal Roofing
Painting
Roof Inspections
Roof Installation
Roof Repair
Rubber Roofing
Siding
Soffit and Fascia
Standing Seam Metal Roofing
Call us today at (304) 525-4404 for more information or for an estimate. We offer warranties, too. The roofers of A-1 Roofing work closely with our residential and commercial customers to make sure they are satisfied. Ask about our monthly payment options through Hearth.
Residential and Commercial Roofing Serving the Tri-State Area
A-1 Roofing offers residential and commercial roofing services for Chesapeake, Huntington, and surrounding tri-state areas. You may not think much about your roof, but it is an essential part of your home or business. Roofs protect the integrity of the structure, keep water out, and more. If you notice that your roof has damage or is old and needs replacing, call us. A-1 Roofing offers asphalt shingles, metal roofing, rubber roofing, and more. Our roofers offer sealing to add an extra layer of protection throughout the tri-state region.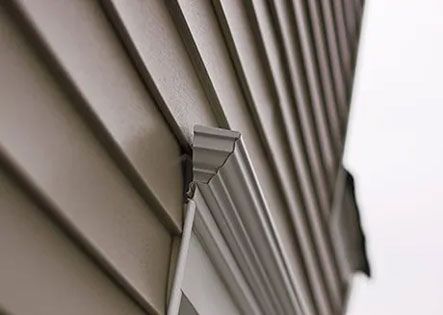 Siding and Gutters for Chesapeake, Huntington, and Surrounding Areas
Along with quality roofing services, A-1 Roofing is known for our siding and gutter installation. Siding and gutters can both fall victim to harsh weather and age. If your siding has holes, cracks, or is missing panels, call us. Our contractors can visit your home or business to see whether we can repair the siding. If not, you can trust our team to replace the siding at an affordable rate.
Without proper gutters, your home or business can endure water and foundation damage. A-1 Roofing can inspect your gutters and determine if it is time for a replacement. Ask about soffit and fascia, too. We serve homes and businesses in Chesapeake, Huntington, and surrounding areas of the tri-state region.
Contact A-1 Roofing for Roof Inspections and Maintenance
If you are unsure if it is time for a new roof, contact A-1 Roofing for roof inspections and maintenance. Our professional roofing contractors can find any problems and provide necessary maintenance. Speak with our team today to learn more. We offer free estimates.
What Our Customers Are Saying
Services: Roof repair for storm & wind damage, Roof damage repair, Gutter repairs, Roof repair, Roof inspection Positive: Professionalism, Punctuality, Quality, Responsiveness, Value A terrific company. Best in the area...by a country mile.
Very hard workers. I recommend this company [because] they do a great job. The workers are extremely civil and the owner of the company is very nice and understanding will help you with anything you need do for your roofing needs. Keep up the good work A-1.
Highly recommended. Repaired the roof of my business and put a roof on the addition to my personal home. Happy w the quality and experience.
George Valentine was great to work with and experienced great customer service. Ill recommend any roof work to give A1 an opportunity.
Best company nice people to work with.
Hard workers and they do good work.
Throughout the tri-state region, contact A-1 Roofing in
Chesapeake, OH for a trusted roofing contractor.